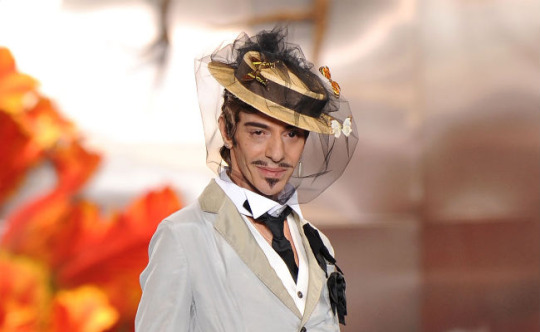 All the best for John Galliano turning 55 today. What do you know about one of the most recognizable designers of our times? Let's see!
John Galliano is a British fashion designer, probably best known for his whimsical, outrageous designs and fanciful runway shows. He was the head designer for Givenchy in 1995 and 1996, when he joined Christian Dior. He also owns his label called just John Galliano. After being fired from Dior in 2011 for making anti-Semitic remarks, Galliano took the position of creative director at fashion house Maison Margiela. 
Galliano was born in Gibraltar on November 28, 1960, but the family moved to London – that's where John stared his fashion education and career. Galliano studied at Central Saint Martins College of Art and Design and worked as a dresser for Britain's National Theatre. Thanks to Anna Wintour and Vogue's creative director Andre Leon Talley, Galliano was introduced to the Portuguese fashion patron Saõ Schlumberger. This relationship busted designer's career and some time later Galliano was appointed head designer of Givenchy, thus becoming the first British designer to head a French haute couture house. In two year's time, he moved to Christian Dior. 
Galliano created some of the industry's most famous collections of the time, Blanche Dubois, inspired by the 1951 movie "A Streetcar Named Desire", Napoleon and Josephine, inspired by the love story of these famous historic figures and Princess Lucretia, inspired by the Russian princess. Love and passion to elaborate outfits, bold and creative design Galliano owns to his Spanish mother and flamenco culture. 
After few years of struggling, John Galliano is back to fashion. We wish him all the best and of course, happy birthday!
Photos Reuters/Benoit Tessier
See more at www.biography.com